How many people with substance use also experience co-occurring mental health disorders? Past research has suggested a substantial percentage of substance users do – but we set out to investigate the most recent and comprehensive data available.
Using records from the most recent National Survey on Drug Use and Health conducted by the Substance Abuse and Mental Health Services Administration, we analyzed how often co-occurring disorders arise and how they might complicate a patient's search for help. Read on to see how often people struggle with more than substance misuse alone.
A Complex Correlation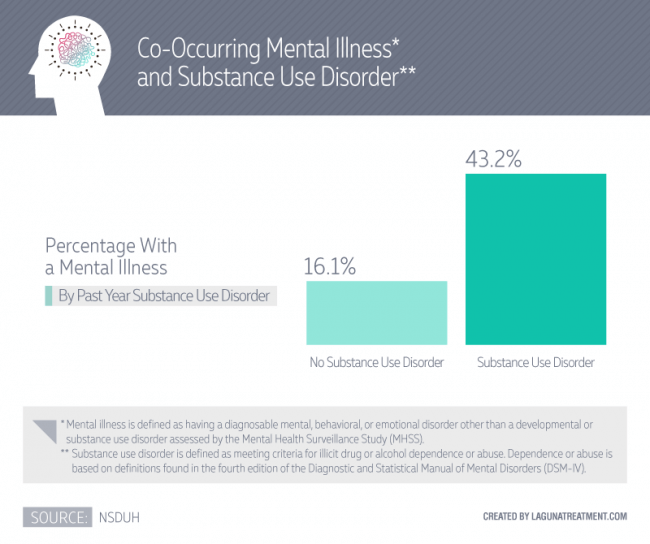 Researchers have long noted anxiety and depression are frequent among substance users, often precipitating addictive behavior or resulting from it. But our findings indicate the connection is more pronounced than many assume.
Among those with a history of substance use in the past year, 43.2 had a mental illness. That figured dwarfed the rate of mental illness among those without recent experience of substance use, although 16.1 percent of this cohort had a mental illness as well.
The reverse association proved strong as well, with a far higher rate of substance use among those with mental disorders. To some clinicians, such figures suggest the "self-medication" framework for understanding addiction. In this view, a substance use disorder arises as a response to underlying psychological distress, becoming a habitual solution to the pain of the mental illness. This hypothesis has prompted much debate since its introduction in the '80s, however, drawing criticism from those who view substance use as a discreet disease.
Mental Health Struggles by Substance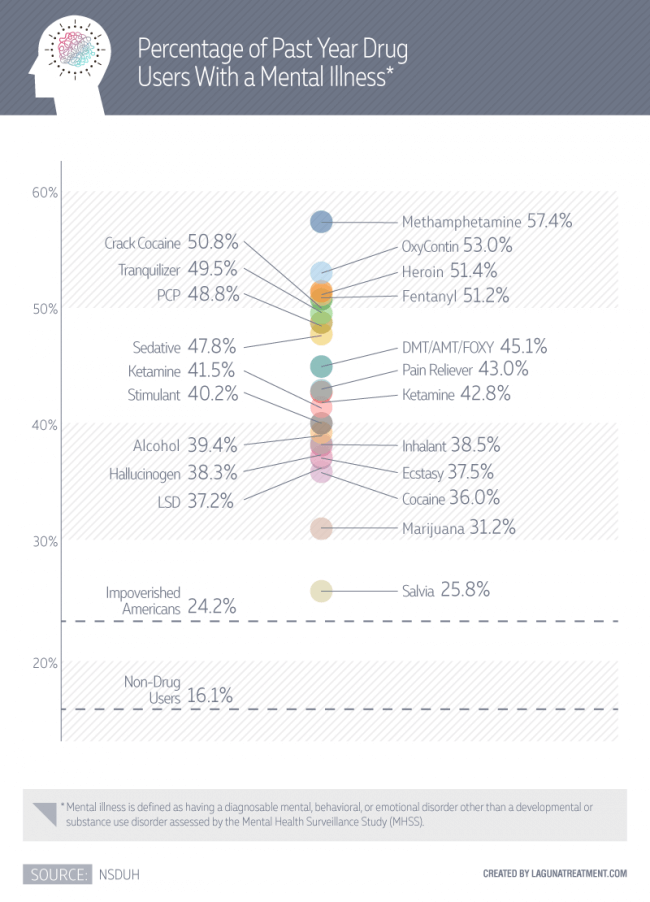 If the connection between substance use and mental illness is quite evident in general terms, do certain substances correlate with co-occurring disorders more closely than others?
In the case of many substances, more than half of users reported a mental illness as well. That link was particularly pronounced for methamphetamine users, of who over 57 percent had a mental illness. Psychiatrists note extended meth use can cause psychotic episodes and more extended symptoms, in addition to exacerbating pre-existing disorders.
Users of opioids also experienced high rates of mental illness, which may relate to evidence that extended use of these drugs causes an increased risk of developing depression. Conversely, marijuana users had one of the lowest rates of mental illness among all substance users. This finding may encourage those who support the medicinal use of cannabis to treat a range of mental illnesses, including depression, anxiety, and bipolar disorder.
A Critical Need for Care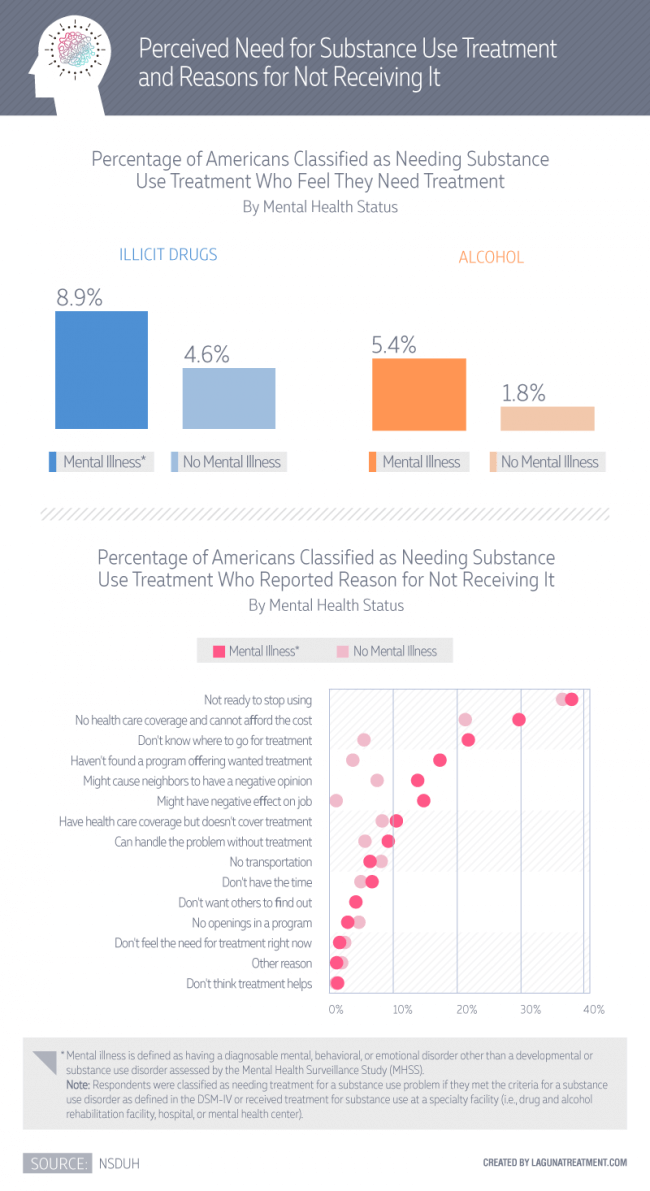 Among those with a mental illness who were classified as needing substance use treatment, only 8.9 percent felt a need for treatment for illicit drugs, while 5.4 percent felt a need for treatment for alcohol use. These percentages were substantially higher than in the cohort without a mental illness of any kind: Among those without a mental illness, for instance, fewer than 2 percent of individuals reported a perceived need for alcohol treatment.
Those with a mental illness, for example, were much more likely to say they did not know where to go for treatment or could not find a facility that offered the services they sought. They were also more frequently worried seeking treatment would affect their employment. Their fears may reflect a tragic reality: Mental illness is often harshly stigmatized in the workplace, despite legal protections against discrimination.
 With or without co-occurring disorders, the most common cause for forgoing treatment was a lack of readiness to stop using. But on other motivations for delaying getting help, the differences between these groups were quite revealing.
Addiction and Increased Urgency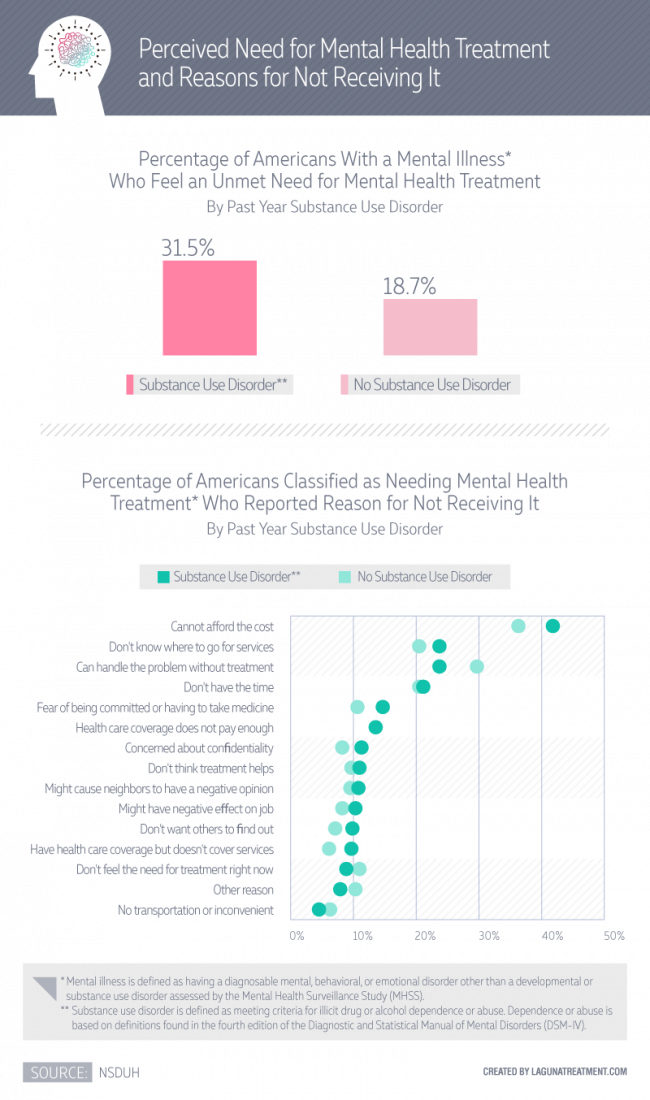 If a large portion of those living with a mental illness also faced substance use issues, the reverse connection was even stronger. Of those with a substance use disorder, nearly a third expressed a need for mental health services.
Mental illness was more common than substance use generally: 18.7 percent of those without substance use issues reported needing treatment for mental illness as well.
These cohorts were relatively similar in their motives for avoiding treatment: For both, the cost was the most common obstacle. Almost half of psychiatrists in private practice don't accept insurance, and inpatient care can cost tens of thousands of dollars a month. As a result, many in need go untreated – or end up in other institutions, such as prisons.
Potential in Prescriptions?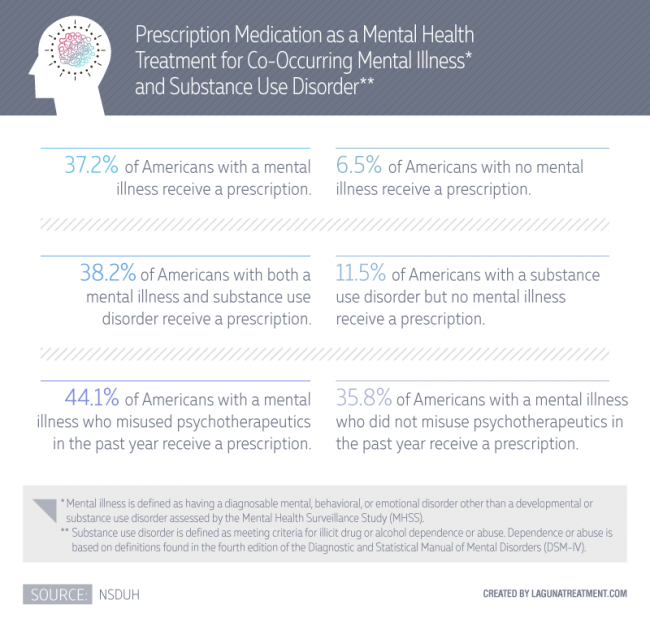 According to our data, more than a third of those with a mental illness were prescribed medication for their condition. The percentage was slightly greater for those with a mental illness and substance use disorder, and 11.5 percent of those with substance use issues alone received a prescription. According to experts, medications are underutilized in the treatment of substance use disorders, largely due to a lack of education among medical professionals. There may also be a reason for concern when prescribing medications to people with a known history of drug misuse.
More people with a mental illness who also misused psychotherapeutic drugs in the past year received prescriptions than those with a mental illness who did not misuse psychotherapeutic drugs. In particular, benzodiazepines prescribed to treat severe anxiety have generated concern within the medical community. With a high risk of tolerance and dependence, this type of drug has significant potential for misuse.
Optimism in Expert Care
Our findings leave no doubt as to the deep and complex connections between substance misuse and mental illness. The challenges of navigating multiple disorders simultaneously can seem daunting, but our data indicate millions of people are attempting that feat each day. For those experiencing co-occurring illnesses, we hope our findings are cause for encouragement. You deserve well-being, and you are not alone.
Seeking appropriate care for co-occurring disorders can feel overwhelming, however. That's where we can help, connecting you with experienced and trustworthy treatment professionals capable of providing the individualized treatment you need. To discover the path to health and happiness, explore our resources today at www.Lagunatreatment.com.
Methodology
We used SAMHSA's NSDUH data to explore the relationship between mental illness and substance use. All calculations in this analysis were done using the NSDUH 2016 public-use files. SAMHSA's online detailed tables are based on their restricted-use files, so the estimates given here are slightly different.
As stated in the NSDUH quality assessment of public-use files: "NSDUH's public-use files (PUFs) maintain high data quality and comparability with NSDUH's restricted-use files (RUFs), which will provide confidence to researchers and policymakers for making policies and public health decisions based on PUF data."
Fair Use Statement
We welcome your help in spreading awareness of this important subject. Accordingly, you're free to share our graphics and findings with your audience for noncommercial purposes. Please provide a link back Lagunatreatment.com, so your readers can explore our data for themselves.