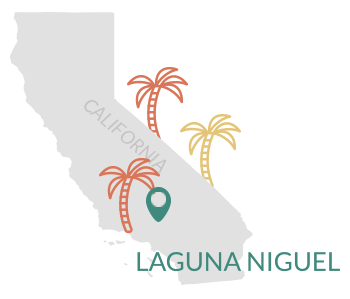 Laguna Niguel, California, is a small city in Orange County, with just shy of 65,000 residents. The median age for residents in this planned community is 43.9 years old, roughly middle aged. This bucolic city is located at the midpoint between Los Angeles and San Diego. The city's name comes from the Spanish word laguna, meaning lagoon, and Nigueli, the name of a nearby Janueno Indian village.
As part of Orange County, Laguna Niguel residents are at risk of abusing drugs or alcohol. The Orange County Register reported in 2017 that death in the county due to drugs or alcohol abuse skyrocketed 82% between 2000 and 2015, with opioid abuse being the leading cause. There were about 700 deaths annually from substance abuse poisoning in the county, with cities close to the water or further south, toward San Diego, suffering the most.
Most Frequently Abused Substances in Laguna Niguel, CA
To understand the impact of addiction on Laguna Niguel and surrounding areas of Orange County, it is important to know which substances are abused most often. Residents of the community are at risk of exposure to these substances, which increases their risk of abusing and becoming dependent on these drugs.
Ready to leave substance abuse behind?
Call now to speak to a consultant about your treatment options
Mental and Behavioral Health Struggles in Laguna Niguel and Orange County
Addiction is a chronic disease that changes the brain, according to NIDA. This condition changes structures in the brain, which impacts how neurotransmitters are released and reabsorbed. This effects mood and mental health. Addiction is also closely correlated with existing mental illness—people who struggle with depression, anxiety, bipolar disorder, schizophrenia, eating disorders, and personality disorders are at higher risk of abusing drugs or alcohol to self-medicate the uncomfortable symptoms of their behavioral or mental condition.
Understanding the rates of hospitalization, mental illness, and childhood problems in Orange County and Laguna Niguel can help one understand approaches to treatment that can best benefit the community.
Hospitalization and overdose: According to the Orange County Health Agency (OCHA), the overall rate of drug and alcohol overdose deaths rose 82% between 2000 and 2017, and men were about twice as likely as women to be hospitalized for drug poisoning or overdose. Men were also about twice as likely to die from a drug- or alcohol-related incident. Cities like Laguna Niguel in Orange County reportedly have higher rates of alcohol- and drug-related hospitalizations and deaths compared to many other cities in the state of California.

A report found that there were about 5,500 drug or alcohol poisonings resulting in hospitalization and about 700 deaths on average every year in Orange County. The average length of hospital stay, when the person survived alcohol poisoning or drug overdose, was just over four days. About 51.8% of the coroner-investigated deaths involved prescription drugs, mostly opioids.

Depression: This mental illness was the leading cause of hospitalization for children ages 9¬–17, and the second most-prevalent cause of mental health hospitalization (tied with bipolar disorder) among adults 18–64. It was also the second leading cause of mental health admissions among older adults over the age of 65. Mental health hospitalizations in general rose 8% among working-age adults during the period of 2000 to 2011, according to a United Way report published in 2014.

Suicide: In 2018 in Orange County, according to the California Department of Public Health (CDPH), suicide was the 11th most common reason for death. There were about 321.7 completed suicides between 2014 and 2016. Suicide is associated with mental health struggles like depression, anxiety, bipolar disorder, and substance abuse.

Children: Hospitalizations of children and teenagers in Orange County due to mental health struggles increased between 2000 and 2011, particularly between 2010 and 2011. Major depression was the leading cause of hospitalization among children 0–17 years old; "other" concerns were the second most prevalent; bipolar disorder was the third leading cause; and substance abuse was the fourth leading reason for children's hospitalization. Mental health hospitalizations among children and teenagers rose 34% during the period between 2000 and 2011.
Treatment Options for Laguna Niguel Residents
There are specific community health resources related to drugs and alcohol in Orange County and in Laguna Niguel specifically. In addition to federal resources, the city and county provide a lot of information on treatment programs and support options. There are also several nonprofit and even free treatment options.
Addiction is a serious condition, but there is a lot of help available for residents of Laguna Niguel, California, to manage this disorder. The city and county governments support many programs and offer a great deal of information and resources on treatment options. There are also several free or nonprofit options. Substance abuse can lead to overdose, death, and chronic health complications, so get help now to change behaviors and reclaim a healthy life.