Laguna's Features & Amenities
Laguna offers a wide range of amenities and activities that ensure your comfort and foster your recovery. From nutritious meals that help to restore your body's strength to recreational activities that allow you to make healthy connections while participating in enjoyable activities that don't involve substance use, Laguna Treatment Hospital's features surpass what you might expect.
First Choice for Detox in Southern California
Our detox hospital is fully integrated with residential treatment to provide comfortable, comprehensive continuum of care from admission to discharge. We are the first licensed Chemical Dependency Recovery Hospital (CDRH) in Orange County.
All detox beds feature EarlySense technology for 24-hour monitoring of patient condition.
Medication-assisted therapy (MAT) ensures patients are safe and comfortable during the detox process.
Maintenance medications, such as suboxone for opioid addictions, continue throughout treatment and post-discharge.
All patients consult with Laguna's medical director, Dr. Paul Little, within 24 hours of admission to determine an individualized treatment regimen. All patients will also consult with the lead psychiatrist within 48 hours of admission to assess their mental health and integrate the needed therapies into their treatment plan.
Laguna's compassionate nursing staff have helped patients manage chronic diseases and conditions such as diabetes, HIV, syphilis, high cholesterol, and more, all while providing the highest standard of addiction detox and rehabilitation in the state of California.
Point of Care Lab Work:
Did you know that in 2018, nearly 17% of cocaine samples tested by Addiction Labs of America contained fentanyl? This is why POC testing helps Laguna determine the best course of treatment during your detox.
Point-of-care (POC) lab work: All patients undergo blood and urine testing to determine the exact drugs that are in their system and identify any underlying diseases or health conditions that will need to be monitored during their stay.
Yes, Laguna Staff Speak Your Language
We arrange for translation services for our patients in medical detox with us. Certain translators will be available 24/7 while others may be available only at specific times.
Languages Available 24/7 at Laguna
Spanish
Chinese (Mandarin)
Vietnamese
Languages Available during Business Hours
Arabic
Bengali
Chaldean
Russian
Languages Available within 24-48 Hours
Tier 1 American Sign Language (ASL)
Albanian
Armenian
Bosnian
Burmese
Chinese (Cantonese)
Croatian
Farsi
French
Gujarati
Haitian-Creole
Hindi
Hmong
Italian
Japanese
Korean
Macedonian
Marshallese
Nepali
Polish
Portuguese
Punjabi
Romanian
Serbian
Somali
Swahili
Ukranian
Urdu
Room Occupancy:
Double rooms are standard, with option to upgrade to single occupancy for added privacy.
Double rooms are fully furnished with 2 double beds and a shared en suite bathroom.
Single rooms are fully furnished with a queen-sized bed and private en suite bathroom.
Single room residents enjoy upgraded linens, mini-fridge, and an in-room coffee maker.
Meals
Our award-winning executive chef prepares farm-to-table meals using locally sourced ingredients.
A dietitian works with patients individually to develop a nutrition plan that best supports their recovery. The weekly menu is crafted under guidance from the dietician to ensure patients are nourished with well-balanced and delicious meals.
Laguna's chef can accommodate any food allergies or dietary restrictions – just ask!
Recreational Amenities
Pool
Fitness center
Lounge rooms with TV, games, reading materials, and comfortable seating
Outdoor patios (smoking and non-smoking)
Additionally, yoga, art therapy, music groups and other activities are frequently available
Day Trips/Excursions: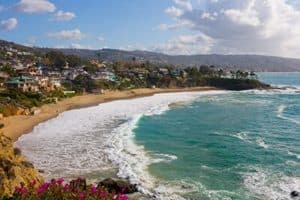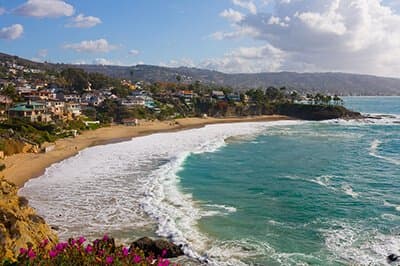 Laguna Beach: Patients enjoy frequent visits to the beach. Beach activities include tide-pooling, drum circles, Zen rock and sand formations, and ample doses of vitamin D.
Hiking in the great outdoors: Laguna Treatment Hospital is located near several of Orange County's scenic open-space preserves. Patients can participate in guided hikes to take in the sights, stretch their legs, and breathe the fresh air. Laguna's resident therapy dog, Jack, comes along too!
Shopping: Didn't pack enough clothes or toiletries? No problem. Patients can participate in regular "supply runs" to local shopping centers to stock up on everything they need.
Additional Benefits:
24-hour nursing
Hotel-style accommodations
Pet therapy
Music therapy
Yoga/meditation and breathwork
12-Step AA and NA meetings open to the community
We are constantly adding more programs and offerings.