Laguna Treatment Hospital is the first choice for medical detox in Orange County, California. By providing a fully integrated hospital-based detox and residential inpatient program, patients are assured of a safe, comfortable experience in a soothing environment. Our certified nursing staff provides 24-hour medical monitoring from admission to discharge.
This is primarily a detox and residential treatment center in a hospital-like setting. If you wish to stay longer in treatment as you progress you may be charged and room and board fee.
Our Care Continuum
Our levels of care include:
Medical detox
Medically intensive residential treatment
Partial hospitalization program (PHP)
Aftercare planning and alumni network
Patients can participate in our entire continuum of care, or work with their case manager to transition from our residential treatment into the outpatient program of their choice. Laguna's administration staff can connect you with our network of trusted outpatient providers to meet your ongoing needs in recovery.

Medically Monitored Inpatient Withdrawal Management (Medical Detox)
Laguna Treatment Hospital specializes in medically supervised detoxification and withdrawal management using medication-assisted treatment (MAT). Laguna is the first addiction treatment center in Orange County to be licensed as a chemical dependency recovery hospital.
Laguna Treatment Hospital has 24 nurses on staff to closely monitor guests during the early phases of recovery. Our expert medical staff are available on site or by phone 24/7 to carefully guide individuals safely through detoxification.
All detox beds feature EarlySense technology, which continuously monitors patients' vital signs and alerts our 24-hour nursing staff at the first sign of distress. Our 24/7 patient monitoring ensures a safe and comfortable environment during detox and throughout the rest of our intensive residential treatment program.

Inpatient Rehabilitation (IR)
In our inpatient rehab (or intensive medical rehab), our comfortable therapeutic milieu creates an atmosphere where patients can immerse themselves in a recovery mindset as they progress in treatment. Our 24-hour staff are available to assist guests with living skills and the supports they need to handle the physically and mentally painful issues related to their substance use.
Residential Services
Laguna Treatment Hospital has structured programming which allows individuals to continue to rehearse skills which enables individual to take the next steps to reintegrate into the community.
Laguna Treatment Hospital's hotel-like facility provides a calm, soothing place for patients to focus on their prescribed treatment regimen in a live-in rehab environment.
Residents receive individual and group therapy, attend doctor's appointments and 12-step meetings, and participate in supplemental therapies such as yoga, music, art, and outdoor excursions. Daily schedules are well-structured and allow patients plenty of time to rest and recover physically, mentally, and emotionally.

Partial Hospitalization Program (PHP)*
 Following our intensive inpatient therapy, patients can choose to participate in our partial hospitalization program, or PHP. The purpose of this step is to move clients away from around-the-clock supervision and gain more real-life experience in the community.  
Laguna Treatment Hospital's outpatient PHP provides care 6 days a week for no less than 5 hours per day. PHP patients attend daily programming, structured group therapy, and weekly individual therapy sessions. They also have greater access to the community and outside support group meetings, while learning how to have fun in recovery through recreational activities and experiential therapies. 
*Residence fee required
Aftercare Planning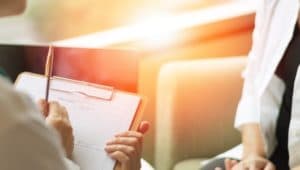 Prior to discharge, all Laguna Treatment Hospital patients work with their case managers to finalize the details of their travel, housing, outpatient schedule, prescriptions, and doctor's appointments. Patients not participating in Laguna's PHP therapy will be connected with another outpatient provider to continue their treatment.
We will also assist you in finding transitional supportive housing. We will also connect you to our network of Laguna alumni.