Treatment for addiction very often centers around group therapy. Although individual and family therapy are important parts of an overall treatment plan, group therapy often serve as the core therapeutic component of addiction treatment. People in recovery may spend from one to five days a week attending group therapy, depending on their level of care.
The Substance Abuse and Mental Health Services Administration (SAMHSA) states that "the natural propensity for humans to congregate makes group therapy a powerful therapeutic tool" and notes that it can be as or even more successful than one-on-one therapy.
Group therapy helps to remove some of the feelings of isolation and shame that are so prevalent in people who struggle with addiction. Sharing your experiences with others and even having moderated confrontations with others in the group (e.g., having someone confront you about your denial) can help you to support and feel supported by others and to understand your own patterns better. In this way, group therapy can help you feel more engaged in treatment.
What Is Group Therapy?
Group therapy takes a number of different forms, including: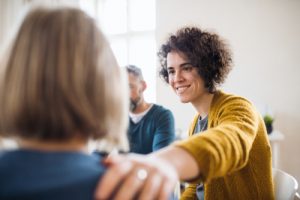 Interpersonal process groups, where clients talk about past experiences and relate them to their substance use.
Psychoeducational groups that provide substance abuse education.
Cognitive-behavioral therapy groups, which challenge maladaptive thoughts and behavioral patterns associated with addiction and provide guidance on adjusting them to more positive ones.
Skills development groups, which teach coping skills needed to achieve sustained abstinence from drugs and alcohol.
Support groups, where peers in recovery can poke holes in their peers' excuses and support each other in making positive changes.
Sometimes included under the umbrella of group therapy is peer-led recovery support groups such as Alcoholics Anonymous (AA) and Narcotics Anonymous (NA) or SMART Recovery, which are often also part of a comprehensive addiction treatment program.
What Are the Benefits?
While some people may feel intimidated by the prospect of sharing their feelings and experiences with others, group therapy can provide many benefits to people who are in recovery. Benefits of participating in group therapy include the following:
Group therapy provides a kind of positive peer pressure or accountability to remain sober. Participants may be motivated to attend sessions and stay abstinent from substances by not wanting to disappoint their peers.
The group dynamic may relieve some of the isolation of addiction and help members to forge positive bonds and share their experiences with people with whom they can identify.
Groups are often comprised of people at widely different stages of recovery. For people new to recovery, witnessing others who are further along in the process can provide hope for the future.
Groups can facilitate the learning of new coping skills through discussions on what group members do when faced with triggering situations.
Other people in recovery can help group members identify harmful patterns and lend insight from their own experiences about how to adjust distorted thinking.
Group members can provide encouragement for other members who are going through difficult processes.
Groups can provide structure and discipline for members, which can evoke positive change after addiction has thrown their lives into chaos.
Groups may take on a family dynamic that may, for many, be much healthier than their actual family dynamic. Members can also practice ways to interact with family within the structure of the group.
Group members can support each other outside the group, where a recovering individual may have few or no positive sober relationships otherwise.
How to Get the Most from Group Therapy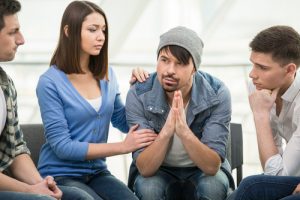 Group therapy will provide the most benefit when you are open and willing to be part of the process. In order to get the most out of your group therapy, you need to be an active participant and you need to be honest and authentic.
Provide feedback to your peers and try to remain receptive to the feedback of other group members. It may feel incredibly uncomfortable at first, but you will benefit in the long run. It will get easier over time to hear constructive criticism, especially if you take steps to make changes and see how they helped.
Always be respectful of others when they are speaking. The group is for everyone to benefit from, not just you. People may have different beliefs or viewpoints in the group; listen to your peers and show respect for your differences. Try to see things from a new perspective and avoid judging. Do not attack or threaten other group members, and be respectful of appropriate boundaries with other members.
Use the group as way to practice the skills you'll need to stay sober.
Make a commitment to attend all groups unless you have an emergency. When attending a group, open up as you feel comfortable. You may not feel comfortable opening up at first, and that's okay; respect your pace. As your comfort level grows, take some risks within the safety of the group, for example, by sharing something that you may have been too afraid or ashamed to say.
Listen to others and what they have to share, and try to find the lessons you can take from their experiences and apply them to your own recovery process. Use the group as way to practice the skills you'll need to stay sober. You can practice skills like drug refusal, talking to family members with whom you have strained relationships, and coping with triggers. Group therapy provides a safe place for you to practice new behaviors.
Laguna Treatment Hospital's treatment offerings utilize group therapy as a core component of treatment. Learn more more about how our treatment programs can help you find your way to lasting recovery.
Sources:
Center for Substance Abuse Treatment. Substance Abuse Treatment: Group Therapy. Rockville (MD): Substance Abuse and Mental Health Services Administration (US); 2005. (Treatment Improvement Protocol (TIP) Series, No. 41.) 1 Groups and Substance Abuse Treatment.
Colorado State University. (n.d.). About Process Groups.