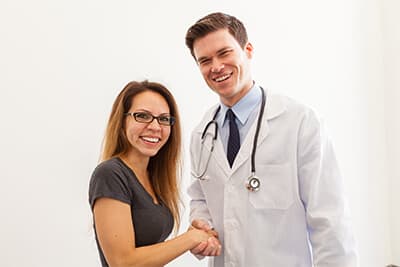 Detoxing from substances due to an addiction disorder can be an intense and difficult process.

It can involve symptoms that are so unpleasant, the very idea of detox acts as a deterrent from trying to confront an addiction at all. In rare cases, the withdrawal symptoms can be dangerous and even deadly. Because of this, many addiction treatment centers offer medical detox programs that allow individuals to get through the process safely and comfortably.
The ideal detox process is different for each individual depending on the type of substance the person is addicted to. For some substances, there are specific medications designed or adapted to make the process easier or to slowly transition off the drug. When this is not available, there is often a choice between "cold turkey" detox, which is when an individual stops taking the substance altogether or more gradual detox processes.
When considering which route to take, it's important to think about one's individual needs and circumstances. With various options available, it's important to choose the medical detox program that will work best for the individual in question.
Medications Used during Detox
When possible, medical professionals will often try to make the detox process easier by using medications to aid the transition. Medicated detox refers specifically to the cases in which there is a medication commonly used or exclusively developed for the purpose of getting an individual through detox with minimal discomfort.
The most well-known of these medications is methadone – an opioid painkiller that is similar to morphine and heroin, but less addictive and less likely to produce the same kind of euphoric high as the other, more potent drugs. Switching a person to methadone makes it much easier to be weaned off the drug, as it produces less intense cravings. Methadone programs are also highly controlled, so there's little chance of the individual taking more methadone than prescribed. The use of this drug as a treatment for opioid addiction has dramatically increased in recent years, with the number of people on this program rising from 6,000 to 30,000 in 10 years in Ontario.
Methadone programs have to be strictly controlled due to the fact that the drug comes with its own dangers. Though less intense, methadone is still an opioid and still addictive. It also has a much lower lethal threshold than most other drugs. Taking a very small amount more than prescribed by a doctor can easily result in overdose. This causes issues for many individuals who are struggling with addiction. Due to the connection between heroin addiction and poverty, it can be unreasonable to expect these individuals to travel to a treatment center every day just for their dose of methadone.
To counter these issues, alternative medications to methadone have been developed in recent years. Buprenorphine has taken the place of methadone in many clinics. It's even easier to transition off than methadone as this semi-synthetic drug does not produce significant withdrawal symptoms. Plus, it has much less of a depressive effect on the respiratory system, reducing the risk of overdose death due to hypoxia. Because of this, doctors can prescribe buprenorphine for clients to pick up from a pharmacy and self-administer at home, eliminating costly and time-consuming travel.
An even more recently developed alternative is L-alpha-acetylmethadol (LAAM). This medication is even longer-lasting than methadone to the point that clients only have to come in two or three times a week to get a dose, which comes as an oral tablet. It's often used when both methadone and buprenorphine have failed to produce results.
Alcohol addiction, one of the most common addiction disorders in the US, can be treated with a couple different FDA-approved medication options. The oldest is Antabuse, which simply works by interfering with the human body's ability to absorb alcohol. This causes unpleasant side effects like nausea and palpitations when even a small amount is ingested. The only problem is getting people to keep taking it.
Naltrexone, on the other hand, reduces both the high of and cravings for alcohol by blocking certain pleasure receptors in the brain. In one study, individuals on naltrexone has 36 percent fewer episodes of heavy drinking over the course of three months.
Central nervous system depressants like barbiturates and benzodiazepines can be substituted with less potent and addictive medications to help individuals slowly taper off the medications. Benzodiazepines were originally thought of as a great solution to the severely addictive properties of barbiturates. However, it turned out that benzodiazepines are also quite addictive and can produce severe health problems if used for many years. Most often a benzodiazepine will either simply be tapered off or the client will be switched to another, less addictive medication in the same drug class.
There are not currently any medications approved for the direct treatment of addiction to stimulants like cocaine and methamphetamine. Withdrawal symptoms must be treated after they appear.